How to streamline operations, accelerate business growth, and boost profits using workflow software.
In this article, you will learn:
The definition of workflow software and workflow management software
The primary benefits of workflow software
The different types of workflow management software
How to identify the right workflow software for your business
Why workflow software is becoming increasingly valuable to companies in the digital age
How workflow software continues to improve and evolve
How to get the benefits of workflow software without high cost software licenses or the need to have deep technical skills
How to get started with workflow software
What is workflow software?
Business managers know the critical importance of efficient, well understood, repeatable workflows. The ability to operate efficiently and avoid costly mistakes is often the difference between profitability or failure as a company.
However, while employees can be trained to follow routine procedures to achieve good results, automated workflow management software enables businesses to achieve significantly greater cost savings and improved results.
Workflow software, also known as workflow management software, automates the work required to coordinate, manage, and optimize the execution of business processes. Workflow software automates processes to help businesses:
Accomplish more without increasing labor costs
Eliminate costly errors which take time time to fix and damage the reputation of the company
Systematically enforce best practices and procedures to meet quality and compliance standards
Enable executives, managers and workers to track work-in-progress, monitor performance, and focus resources on priorities
Provide workers access to written procedures, step by step instructions, interactive training materials, and detailed process documentation.
Grow business operations at overall lower costs
Generate higher operating margins and profits
The highest cost component of any business process that has not been partially or fully automated is labor. Therefore if your team can get work done faster while sustaining or increasing the quality of your product or service, the cost savings quickly add up to increased profits, competitive advantages, and more profitable growth for your business.
What kinds of businesses use workflow software?
Every type of business can benefit from workflow software. The number of businesses who use workflow software is rapidly growing–especially among medium and small sized businesses. In 2018 businesses spent around $5 billion on workflow automation software. However, the simplification and increased availability of workflow automation software as an online service for businesses of any size is expected to help drive the workflow software automation market to $29 billion by 2026. If you have not already put workflow software to work for your business, now is a good time to get started. If you do not, your competitors likely will. Luckily a wide range of options and price points are now available in the market. Investments in simple solutions to workflow automation can pay for themselves in days to weeks–not months to years.
What are the primary benefits of workflow software?
Work and assignments move forward without delay
Automated task assignment, delegation, and tracking
Automated progress tracking tracking and reporting
Increased accountability, focus on priorities, and awareness of deadlines
Process documentation to support employee training and procedure reference manual needs
Process audit trail records to support compliance and regulatory requirements
Process performance analysis to support optimization and continuous improvement initiatives
Workflow software enables you to digitize and automate your business processes and achieve operational excellence.
What types of workflow software are available?
Different kinds of workflow software are designed to meet different business needs.
Most types of workflow software are offered online as "Software-as-a-Service" (SaaS). In general choosing workflow software as a service will reduce your operational costs significantly relative to the alternative: workflow software that you must install, configure, code, and maintain. However, in certain cases, usually for the largest of businesses, workflow software that runs on on your own servers may be necessary.
Kanban Board Software for Workflows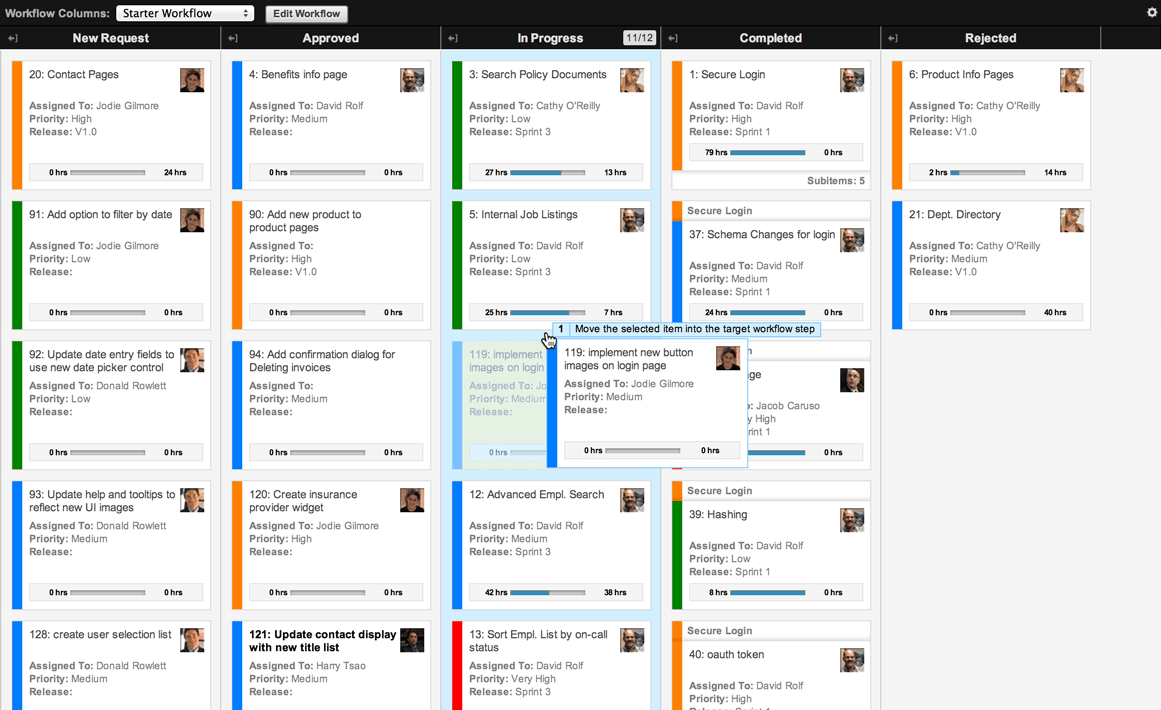 Originally created to coordinate "lean manufacturing" processes, Kanban board software has evolved to meet "agile project management". Kanban software uses the visual metaphor of a Kanban (Japanese for "billboard") where cards representing a unit of work to be done are placed into distinct columns. Each column represents a step in a workflow process. For project management, the columns are often simplified to a simple workflow consisting of "to do", "in process", and "done" steps for each unit of work.
In some Kanban software, the columns can be customized to represent other sequences of a process (e.g. "requirements", "design", "implementation", "review", "testing", "delivery"). In either case, when work at one stage is complete, the card is moved to the next column. If work needs to be redone, it's moved back to a prior column. Within each column, high priority work is moved towards the top of the column. Thus Kanban boards provide a visual status of both priority and progress.
Checklist Workflow Software
Checklists are a simple, yet powerful way to manage workflows, drive efficiency and achieve high-quality outcomes. Checklists serve multiple purposes simultaneously.
Checklists document the process. Each step that needs to get done is clearly outlined. Tasks and subtasks are easy to see. And, if you number the tasks, the implication is that work should be done in that sequence.
Checklists help make sure no step gets missed. While checking off a completed task shows progress, it also reveals what has not been done and serves as a reminder to do it.
Checklists are used to coordinate teamwork. Each step or individual tasks can be assigned to different people. In this case, not only are the process steps clear, the responsibility for each aspect of the work is also clear. Standard operating procedures are often written to resemble step by step checklists with a clear assignment of roles. Collaborative checklists can be used by all process participants to streamline the transition of work from one person to another.
Checklists help track progress. Similar to the visual progress of Kanban boards, a quick glance at a checklist reveals lots of information about what's been done and what remains.
Checklists need not be constrained to checkboxes and text. Many types of workflow checklists include forms to gather data, record inventory, or make comments. This information then becomes part of the record and may influence which other parts of the checklist should be completed.
While checklists are easy to create and familiar to use, their simplicity does not restrict them to simplistic uses. For example, in his book The Checklist Manifesto, Atul Gawande describes how checklists used by surgeons make sure medical operations follow well-defined procedures, by airline pilots to make sure all systems are go before taking off, and by skyscraper engineers to make sure buildings are structurally sound.
Paper checklists provide all of the above. However, checklist-based workflow software adds significant additional benefits:
Time savings and reduced labor costs from automated execution and coordination of work.
Elimination of costly mistakes or missed steps in a process.
Higher productivity and greater accountability from existing team members.
Integration with other software like CRM systems, databases, messaging services, marketing software, online spreadsheets and hundreds of other online applications.
The net result of this automation is greater profit margins for the business.
Flow Diagram Model Workflow Software
You may have seen process flow diagrams that look like the ones above. "Box and line" diagrams show how one step connects to the next. Directional arrows show which way the process moves. Different shapes represent different kinds of process steps such as decision gateways. In fact, there's an entire set language and industry standards for these called BPMN (Business Process Modeling Notation).
These flow diagrams can be used to illustrate workflows and automated processes. For example, one step in the process could involve issuing a task with a form to a person for completion, and the next step, upon successful submittal of the form, could involve putting the information from the form into a database or other application.
This is classic flow diagram centric workflow software. This style of workflow software has been around for decades and pre-dates the popularization of the Internet. However, this style of workflow software can now be found in online software delivery models. Older versions of this type of software usually require some degree of coding know-how. However, more recently there has been a significant effort to move towards "no code" modeling of processes. No-code workflow software provides detailed configuration-driven workflows instead of requiring code to be written.
Flow diagram styled workflow software usually allows for very fine-grained control over the process and the user experience. However, that degree of control comes with a higher overall cost of ownership. Anyone developing a workflow using this kind of software usually needs special training. More time and effort is needed to detail each part, connect each piece, build, style and layout each form.
Business Process Management Platforms
Business Process Management (BPM) software includes workflow modeling, management, and execution capabilities, but also goes further. BPM platforms typically include the classic flow diagram style of workflow development. However, BPM systems usually include advanced features for process simulation, automated work distribution and redistribution, integrated document scanning, optical character recognition, and other features aligned with the needs of large enterprise needs.
Leading BPM providers include IBM, Appian, Oracle, K2, TIBCO Software, Software AG, and others. However, BPM software like this is designed to meet the needs of more complex, highly automated, high-volume processes. Unsurprisingly, when you add up software licenses plus the time and expense it takes to implement, the total cost for this type of BPM is high.
Paradigm shifts in workflow software make its benefits readily available to businesses and teams of all sizes
The Workflow Software Market has been fairly level for the last 10 years, but business analysts forecast growth at 21% a year for the next 7 years. What has been a $5B market and historically constrained to medium and large businesses (typically in IT budgets for core processes) is set to rapidly expand to $26B by 2026. This is fueled by the ability of enterprise departments and businesses of any scale to automate more and more workflows and processes at a pace never before seen.
In keeping with the expanded availability and use of workflow process automation, new paradigms for the category have also emerged. While the flow-diagram workflow software concepts originated in the last century remain applicable in some cases, new and simpler workflow automation concepts have emerged such as checklist-powered workflows. These can be quickly created, easily reused, and easily updated when needed since no coding or special workflow process development skills are needed. Therefore, business team members or IT staff members can put smart, procedural checklist-driven workflow processes into use in at record speed and at lower overall cost.
Which workflow software should I choose?
If you're looking for workflow software designed to easily automate workflow processes, choose TeamworkIQ.
TeamworkIQ is a simple and smart way to manage processes and automate your workflows. Here's how it works:
Document your process: Simply outline the steps and tasks as a bulleted list.
Use numbered bullets to outline steps-by-step- workflow processes, and regular bullets for work that can occur in parallel or any order.
into actionable checklist-driven workflows, with the ability to create recurring templates and forms, saving you valuable time on your day-to-day tasks.
With TeamworkIQ you can:
Create interactive workflows with notes, subtasks and detailed instructions
Attach photos, links, forms or videos to your workflows
Apply conditional logic or dynamic variables to your tasks to account for varying outcomes
Set reminders and alerts, prioritize important tasks and monitor ongoing progress
Engage in instant two-way communication between you and your employees
With TeamworkIQ, it's free to start using our ground-breaking workflow management software. Begin today and discover how TeamworkIQ can eliminate costly errors, free up valuable time, reduce labor costs and increase your profits.